Ски обувки NORDICA Fire Arrow F4 RTL Orange размери - 25.5 НОВИ
Ски обувки NORDICA Fire Arrow F4 RTL Orange
Състояние - НОВИ
Налични размери - 25.5
Страхотни обувки , много комфортни , с прогресивен флекс до 105 !
Имат реглаж на твърдостта - до 105 !
Ability Level:

Intermediate-Advanced

Ski Boot Flex:

Stiff
The revolutionizing high performance Nordica Fire Arrow F4 RTL Ski Boots bring entirely new technology to ski boots to match today's style of skis. While boots have remained relatively static over the last twenty years, skis have evolved dramatically enabling skiers to ski faster, increase inclination and create greater lateral forces. The Fire Arrow boots address these new demands with an entirely new shell design to enhance lateral precision, progressive forward flex creating easier ankle articulation, and a 45 degree closure system for maximum heel retention. The F4 has the newest shape and technology designed for today's performance skier.
Fit
45 Degree Closure
-
A 45 degree buckle provides maximum heel retention by locking the heel into the rear pocket of the boot while ensuring forefoot comfort and warmth. It also allows for super easy entry and exit of the boot no matter the temperature!
Flex
Dynamic Performance Code 105-2-H
-
105 is on the medium-stiff side of Nordica's high performance boots. // 2x (progression) - the boot stiffness almost doubles at the deepest flexing point. // High (rebound) returns the boot at the highest rate for quick turns and edge change.
Adjustable Flex
-
With an on the fly adjustable flex, you can dial in your boots' flex for any condition. Want a little softer flex to tackle the moguls or a stiffer ride for hardpack corduroy? No problem for the Hell & Back, NRGY and Belle Adjustable Flex.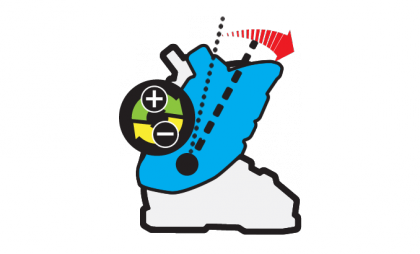 Liner
RTL Fit
-
3D Comfort Rental Anti-bacterial Liner w/ Tech Velvet
Shell Materials
Stance
Dual Cuff Alignment
-
With an allen wrench, you can easily adjust the cuff alignment of your boots independently to get the most precise and comfortable fit. Just turn and go.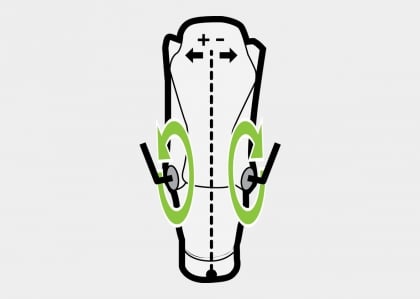 Buckles
Three ALU 3 Position Screwed Buckles
Power Strap
Sole
Specs
Ability Level:

Intermediate-Advanced

Ski Boot Flex:

Stiff

Flex Index:

up to 105 progressive

Forefoot Width:

100 mm

Number of Buckles:

3
Добавете коментар
Вашето име:
Вашият коментар:
забележка:

HTML не се подържа!
Оценка:
Лош
Добър
Въведете кода от картинката: